We don't have any litters planned
*****
How we raise our puppies:
the short version:
Our puppies grow up in our living room where they have lots of contact with people and other dogs. Of course they all get vaccinated, wormed and micro chipped. We practise brushing with them and socialize them well by taking them on trips to the city, a garden centre, or to visit friends. Check out the puppies we have bred under "Litters" there are lots of puppy pictures there!
the slightly longer and illustrated version:
From birth and for about the first 2 weeks of their lives our puppies grow up in our 'puppy-room', this is our smallest bedroom so it is quite easy to keep warm.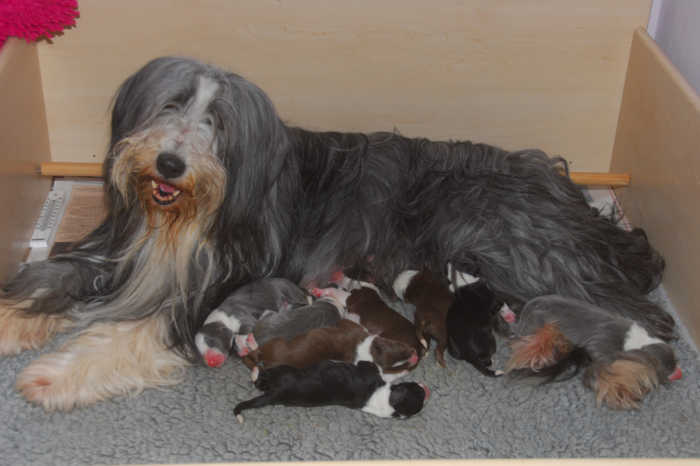 a content mother Maggie with her 8 newborn puppies
During birth and the first weeks after it is of main importance that mum and her newborns are left in peace. Puppies are blind and deaf at birth, when they are around 2 weeks of age they will start to hear and open their eyes. Because newborn puppies are helpless little things they only need their mother's milk to survive and warmth and rest. That is why mum & newborns have their private nursery so they get just what they need.
When the puppies are about two to three weeks old - depending on how far along the pups are in their development, and on the time of year - we move them to a bigger playpen in our living room. If the litter is born in winter we move them back to the puppy room for the first few nights so they won't get cold in their bigger playpen.
below: Jenna and pups in their playpen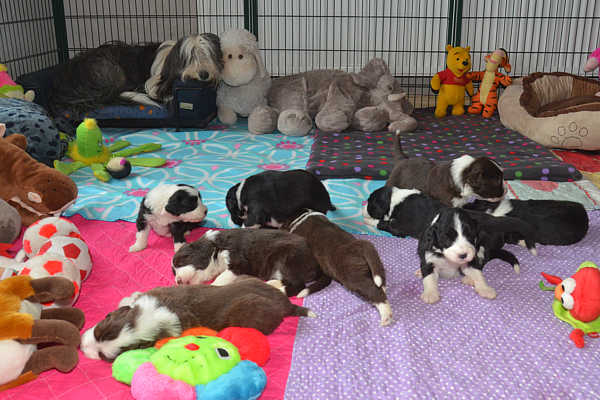 Once in our living room the puppies will become familiar with all our adult dogs, our cat, and the frequent visitors who come to admire them.
We like to ensure our puppies have access to plenty of toys and room to run and play to aid their development.
Over the years we've collected many toys, we like to give them toys that make all kinds of different noises so they get used to this and think it is great fun.
I addition to socialising them with regular domestic noises like the coffee machine, the vacuum cleaner, opening and closing of doors and cupboards, we also introduce them to loud and unusual noises and make this into a game so that loud and unexpected noises in their new homes hopefully won't startle them.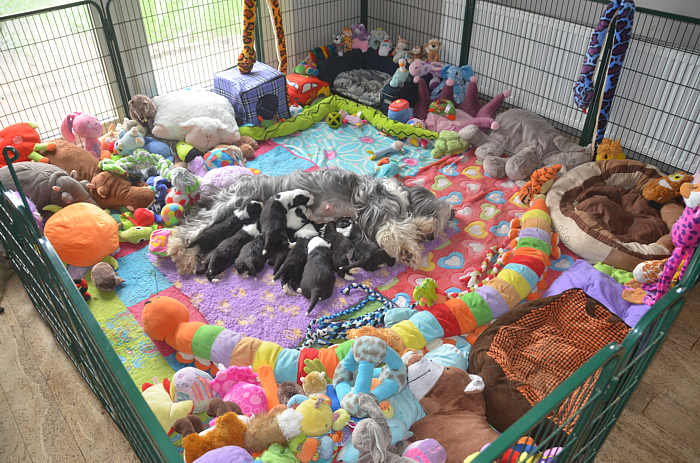 Joanne and pups in their living room playpen
Once the pups are properly on their feet and have discovered all there is to discover in their playpen (often when they are 3 to 3½ weeks old), we start letting them run around in our living room. Of course we only do this under strict supervision so they won't chew on anything that may be harmful to them.
puppies running amok in our living room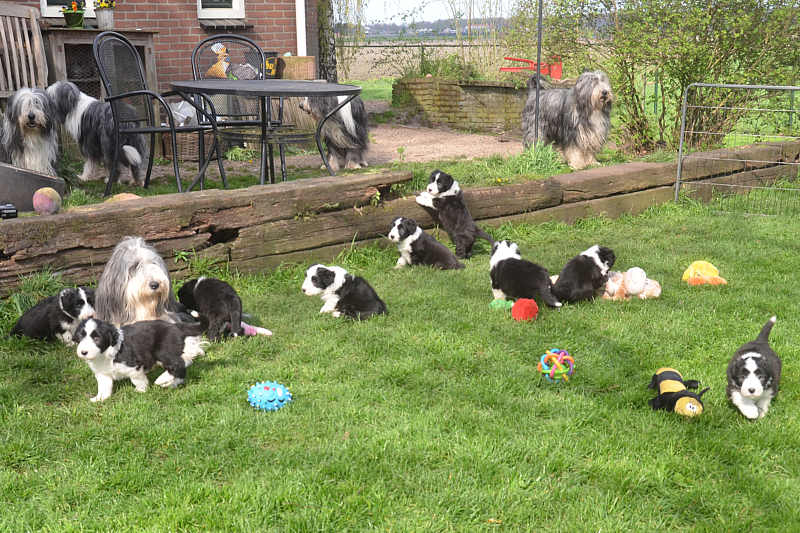 Depending on the weather, our puppies will have their first outdoor adventure when they are about 4 weeks old. If it is really cold and/or wet we wait till they are a little older. If the weather is really nice and warm we fence in part of the garden for the puppies so they can safely spend a lot of time outdoors. If the weather is cold and horrible we just take them outside for a little walk around our garden and then get everyone back inside again to get warm.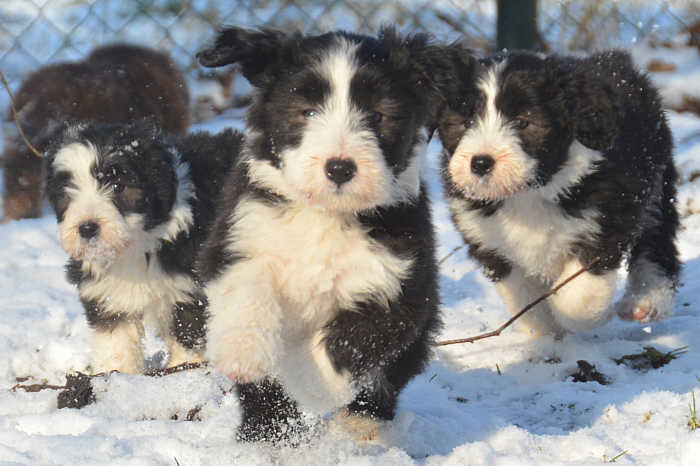 When the puppies are 4 to 5 weeks old we start practising grooming. We do two separate exercises with them, one teaching them to lie on their sides calmly and the other being brushed. Only when the puppy is sufficiently used to both exercises and at ease do you start to groom them while lying on their sides. When the new owners come to collect their puppy we show how we have practised grooming and how to continue this in a positive manner so grooming will be enjoyable for both dog & owner in the years to come. Of course we are always available for questions or in case any problems arise!
When the pups are approximately 6 weeks old the vet will visit us at home to check the puppies' health and give them their first inoculation. They will also get their EU pet passport then. We prefer having the vet come round to us for the pups' first vaccination instead of taking them to the vet as we do not want to risk running into an ill dog at the vet and risk the puppies getting ill too.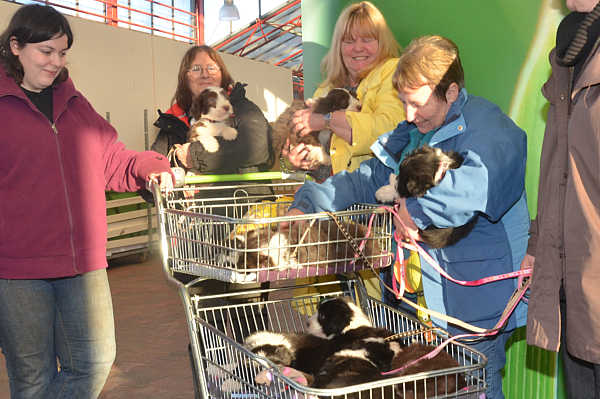 After the puppies have had their first vaccination we start taking them out for socialising. Often we take them on a trip to the garden centre or to the woods and we often take them along while visiting friends so they can explore someone else's home and garden and meet other dogs. Of course we only let the puppies come in contact with dogs whom we know are healthy and have been vaccinated and are friendly towards puppies. We want our pups to have positive experiences!
We aim to breed and raise our puppies to be happy, healthy, well socialised and well adjusted little characters. In order to realise this we put a lot of thought into the planning of our litters and once they are born we put a lot of time and effort into the positive development of our puppies. We don't just socialise them well but we also start practising grooming and house training them.
We worm our puppies multiple times and they have been vaccinated and are in possession of an EU pet passport when they go to their new homes. All our pups are sold as pets with a purchase agreement. New owners get copies of all health tests and any important certificates or titles the puppies parents have gained. We've put these in a little booklet together with the purchase agreement and information on training, socialisation, exercise, nutrition, coat care and useful tips and addresses which we give to all new owners. New owners also get a bag of food, a collar and lead which the fit the puppy when it goes to its new home, some toys both new and ones that have been in the playpen with the pups so they'll smell of the litter and will help the puppy settle in at its new home.
It is important to us to keep in touch with new owners so we are aware of how 'our' puppies are developing and whether new owners have run into any problems or have questions about anything relating to their new family member.
We love to hear that our puppies are doing well and to receive the occasional (or very frequent) new picture, but we also really want to know if there are any issues so we can be there for the pup/dog and its owners and possibly offer help and/ or advice.
We try to organise a reunion every couple of years so we can spend a day catching up with all our Braemoor's and their owners and the dogs can have a fun day together. These are some pictures of our 2011 reunion.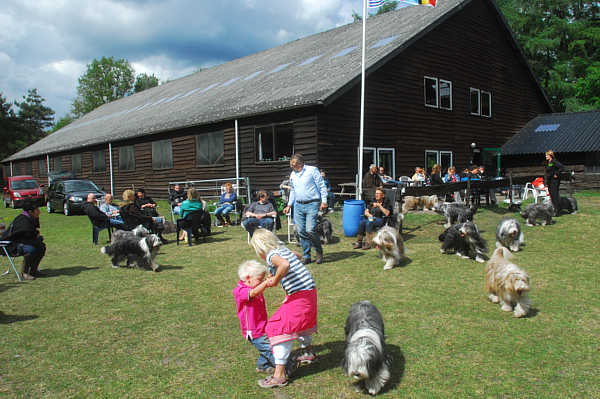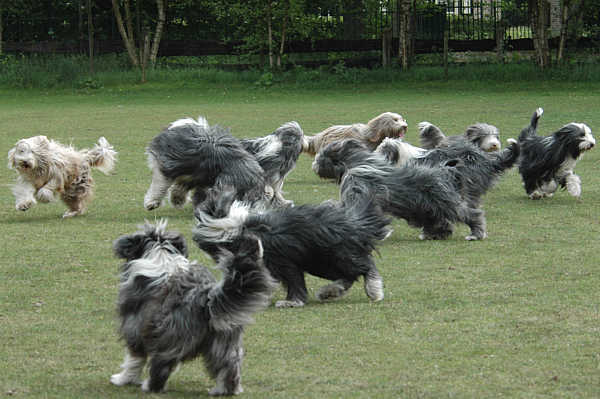 In case you have questions or would like more information about us or our dogs, feel free to contact us by email.