Braemoor's Puppy Day
29 May 2005
This was our first puppy day ever. We had a lovely day, it was nice seeing all the puppies and their owners again. A big thank you to everybody who was there with their beardie(s) for making it such a great day. And also a VERY big thank you to Mark and Roosmarie Wibier, for helping us organize this day.
The beardies who were present today:
our own beardies: Cippy (mother of the first litter), Dexter, Maggie (mother of the second litter), Morris, Jarod
out of our first litter:
Sam (Braemoor's Pass It On) blue dog
Tibo (Braemoor's So Hi) fawn dog
Chip (Braemoor's Scotch Like a Ballad) brown dog
Jessye (Braemoor's Up and Go) brown bitch
Boes (Braemoor's Life Tastes Good) fawn dog
out of our second litter:
Mister (Braemoor's Mister Blue) blue dog; Baika (Braemoor's Hot Chocolate) brown dog;
Denzel (Braemoor's Blue Johnny Blue) blue dog; Jip (Braemoor's Black Jack) slate dog;
Ginny (Braemoor's Shocking Blue) blue bitch; Jens (Braemoor's True Blue) blue dog;
Thara (Braemoor's Vanilla Fudge) fawn bitch; Wendy (Braemoor's Black Velvet) slate bitch
And also present was Bo, the beardie Jip lives together with.
pictures of the puppy day:
eager to start the party: Jarod, Maggie, Dexter & Morris
already quite a few people arrived Boes
Thara
Denzel Jessye & Chip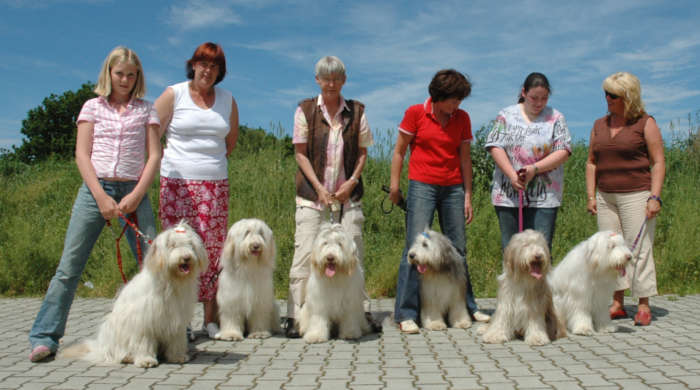 Our first litter at 1 year: Jessye, Tibo, Chip, Sam, mother Cippy and Boes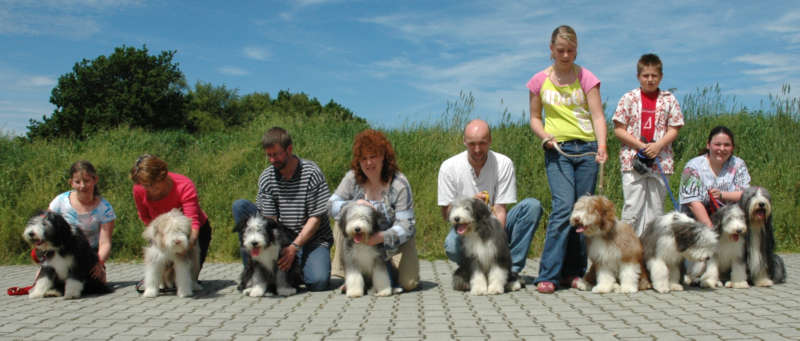 Our second litter at 5 months: Jip, Thara, Wendy, Mister, Jens, Baika, Denzel, Ginny & mother Maggie
the whole group: Sam, Jessye, Baika, Morris, Cippy, Bo, Jip, Thara, Wendy, Mister, Jens, Denzel, Ginny, Maggie, Jarod, Tibo, Boes en Chip
going for a short walk
Baika Mister
Jens, Wendy, Thara & Mister Thara
Sam with his owner
Denzel digging in the water
Boes Thara
Jarod Cippy & Sam
Chip
Mister Thara
Jip Bo
Jessye Chip
Jessye
Jessye, Chip, Jarod & Sam
Jarod, Jessye & Chip
Cippy, Sam, Denzel, Jarod, Jessye & Chip Chip
Thara & Baika
Jessye
Wendy
Boes Thara
Thara & Ginny Jip
Morris do you have FOOD???
Cippy
new game: catch the old english sheepdog