GB Ch/ NL Kamp/ DtJgCh
Ch. Bushblades Ready to Rejoice
HD: B Eye Tested: Clear (2011) CEA Clear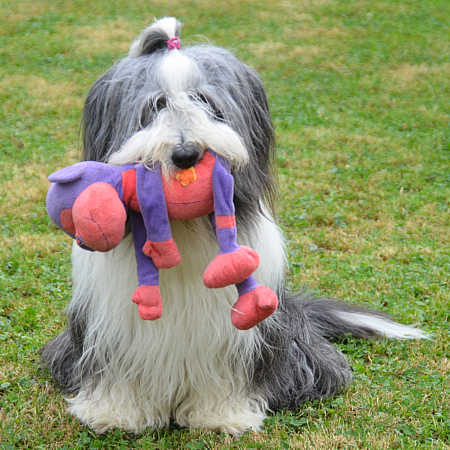 Joanne
26 February 2008 ~ 22 January 2020
Joanne has simply been a dream come true. She was the most amazing personality, she lived life to the full and always adapted to every situation, leaving her energetic-flying-after-toys self for at home or out and about on walks and portraying her most sensible and calm self when coming along to dog shows or restaurants.
Joanne loved anything edible, and any-and-all toys, she also loved to swim. She ruled over the other dogs and confidently defended her pack when we encountered unfriendly dogs on walks, which luckily didn't happen often.
Joanne gave us three litters, and I'm pleased to say her lovely temperament is strong in her offspring as well. We have four of her kids ourselves and though that is more than we ever planned to keep, we don't regret keeping them, life is so much more fun with them in it.
Joanne was a once in a lifetime beardie, the absolute best. A fearless leader, the loudest barker, the most confident, the happiest, the funniest, and definitely the waggiest beardie.
She wagged her tail till the absolute end and it feels like she took a piece of me with her. I think about her daily and still miss her so much, but we're so grateful for everything she's given us. She lives on in her offspring and they remind us of her often in their looks and mannerisms.
Rest in peace Pancake, you will never be forgotten.