Elmo
Ch. Braemoor's Bruce Almighty
09 May 2006 ~ 11 August 2014
How I miss this dog . . .
My favourite pup in the litter and when he was returned to us after 9 days in a new home we just couldn't disagree with cosmic intervention and acknowledged that he needed to be with us. He went on to become our first homebred champion.
Elmo passed away on 11 August 2014, when the lump he was supposed to have removed turned out to be cancerous which had already spread through his entire body.
He was only 8 and such a youngster at heart still, his loss hit me and my other dogs hard and I still miss him so much.
He will always hold a special place in my heart and will never be forgotten.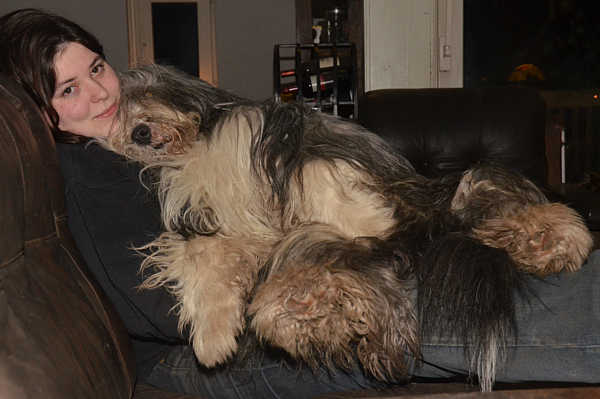 This is what I wrote the day we lost him:
Elmo - Ch. Braemoor's Bruce Almighty
9 May 2006 - 11 August 2014
We have had to say goodbye to our special boy Elmo today. I can't believe he is gone. He was such a kind and gentle soul, my big baby. I will miss everything about him, his growly talk, we could have lengthy conversations and he'd always have the last word. The way he'd stretch his his neck after he'd had a nap so I could stroke his chin, making him stretch even further. The way he'd cock his head to one side followed by a happy twist and growly talk after I'd only said the first word of the sentence asking him whether he wanted to go out. I even miss his smelly beard and muddy feet and the piles of sand he'd inevitably leave in my bed. But most of all I will miss his head in my lap, dark eyes gazing up at me always making me say 'me loves you Melmo' I said it to him again and again today as he closed his eyes for the last time. I miss you my handsome man and me loves you - always